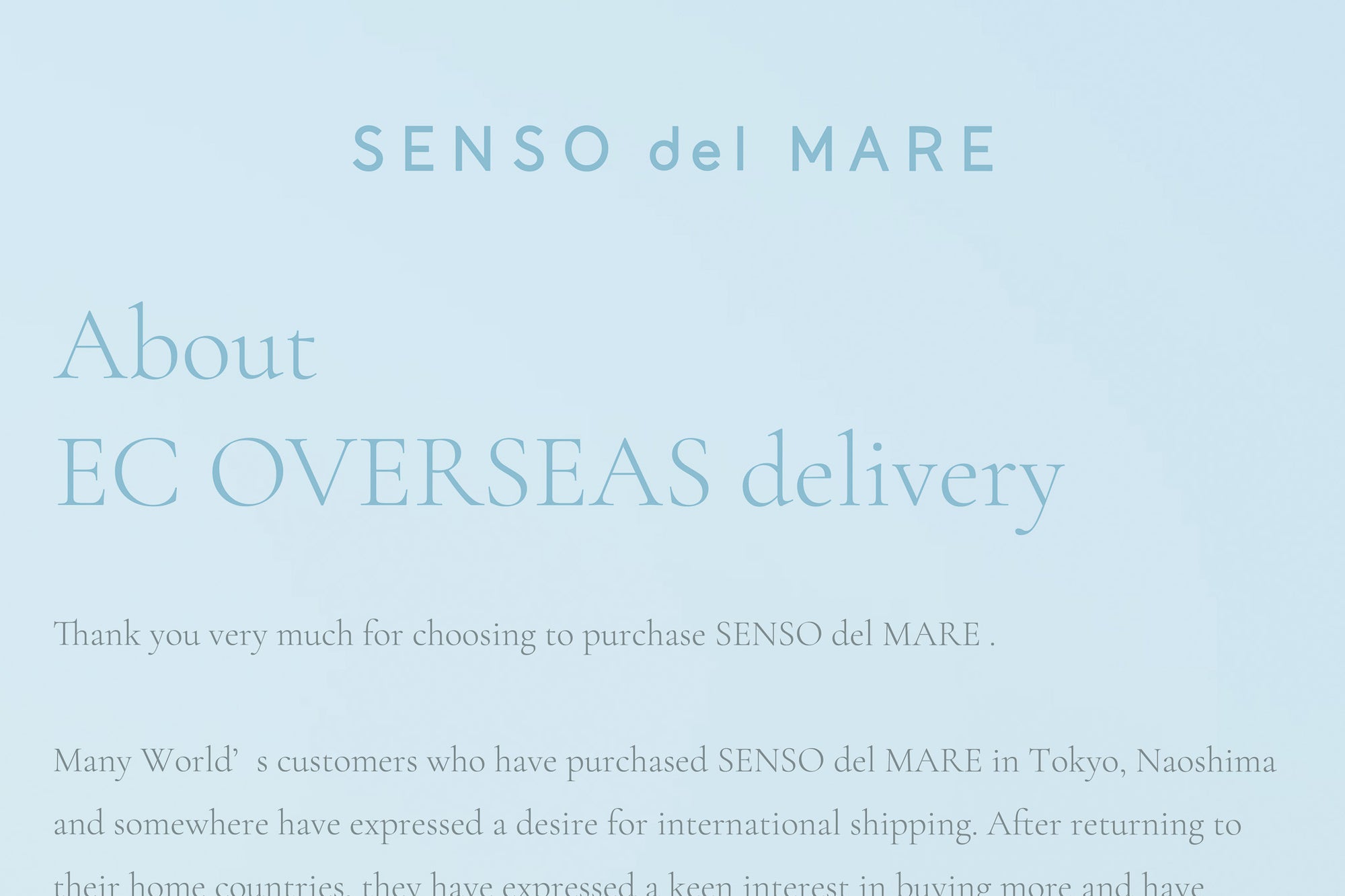 About EC OVERSEAS delivery.
Thank you very much for choosing to purchase SENSO del MARE .
Many World's customers who have purchased SENSO del MARE in Tokyo, Naoshima and somewhere have expressed a desire for international shipping. After returning to their home countries, they have expressed a keen interest in buying more and have requested the option for shipping abroad.
We truly appreciate your support and your interest in our product. We regret to inform you that, currently, we are unable to offer shipping to abroad. This is due to the existing regulations in Japan that restrict the transportation of perfumes containing high levels of alcohol on international flights. 
These regulations classify perfumes as flammable materials, making their international shipping prohibited. While we can certainly deliver within Japan, unfortunately, we are unable to facilitate international shipments to countries such as Australia, and this includes our partnership with TSUTAYA as well. This applies not only to our brand but also to TSUTAYA, other domestic perfume brands, department stores, and select shops in Japan.
We sincerely apologize for any inconvenience this might cause and truly understand your disappointment. We sincerely hope that if you find yourself in Japan again, you'll consider making a purchase. Your understanding regarding this matter is greatly appreciated.
In the meantime, we encourage you to continue enjoying the scent of SENSO del MARE in the comfort of the world.
Thank you very much for purchasing SENSO del MARE in Japan.
We sincerely appreciate your support. 
We hope to have the pleasure of welcoming you back to Japan in the future. 
Your patronage means a lot to us.
Many THANKS!!